We previously shared an inside look at Canadian and American travelers from our study with Northstar Research Partners, looking across generations from Gen Z to Baby Boomers to identify their unique behaviors and preferences when shopping for and booking travel. Today on the stage at The Phocuswright Conference, I shared generational insights on three new countries, China, Japan and Australia – download the presentation and
Chinese travelers are family-oriented and deal-driven explorers who plan travel around food and drink and fill their itinerary with museums, historical sites and arts and culture. They prioritize feeling pampered, activities they will be doing on their trip and once in a lifetime experiences, and approximately 66 percent or more plan and book their trip via an online travel agency (OTA).
Below is a snapshot of Chinese travelers across each generation – subscribe and check out our blog to see snapshots of travelers from other countries.
Gen Z are Food & Drink Aficionados Who Prefer Relaxing at the Beach or Sightseeing
Gen Z averages 31 travel days per year, and nearly half are deciding between two or more destinations. Gen Z are influenced by social media (96 percent) and 91 percent of Gen Z read reviews before making a travel decision, while nearly half said they can be influenced by ads with helpful reviews.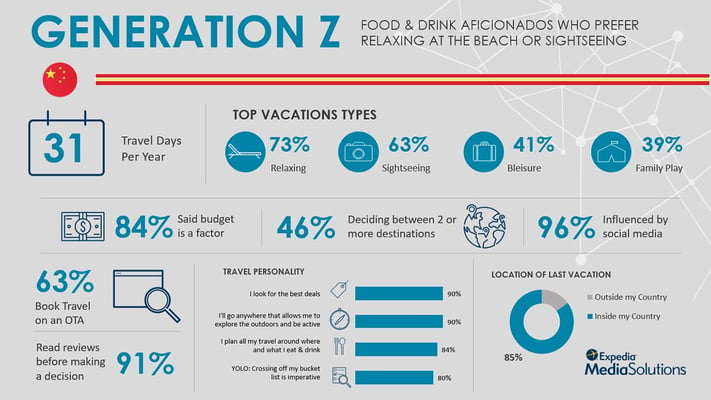 Millennials Plan Travel Around Food & Drink and Enjoy Resort Relaxation, Outdoor Exploration and Shopping
Of all the generations, Millennials travel the most, with 35 travel days a year, and more than 30 percent travel internationally. They allocate the largest portion of their budget to shopping (18 percent), followed by hotel, attractions, tours and food. More than 93 percent of Millennials said informative content from destinations and travel brands can influence their decision, while more than 68 percent said ads with appealing imagery and ads with informative content can be influential as well.