Last fall, VisitBritain showcased the amazing moments that could only be experienced in Great Britain through a
that included the "365 Days of #OMGB" content platform. Now, as a part of our multi-year partnership, we're unveiling the next iteration: an innovative, new video player which is the first ever to utilize a smartphone's gyroscope and compass as a way for users to navigate and engage with inspiring destination content.
Developed in partnership with creative agency 180LA and directed by Tim & Joe, the bespoke digital player takes viewers on an interactive journey through each of the featured locations, allowing users to toggle between the five featured destinations by simply pointing the smartphone in a different direction. For example, when a user tilts their phone north, they'll be taken to the Highlands. Users on desktop or tablet devices can switch films using keys and swipe.
The digital platform showcases linear narratives highlighting competing takes on the 'best of' sport, nightlife, fashion, adventure, and more, with characters representing distinct destinations across the U.K. including in London, Cornwall, Wales, Manchester and the Scottish Highlands. It expands on content from the humorous co-branded TV advertisement that ran in December, and provides another opportunity for travellers to interact with the characters designed to inspire travel to Great Britain.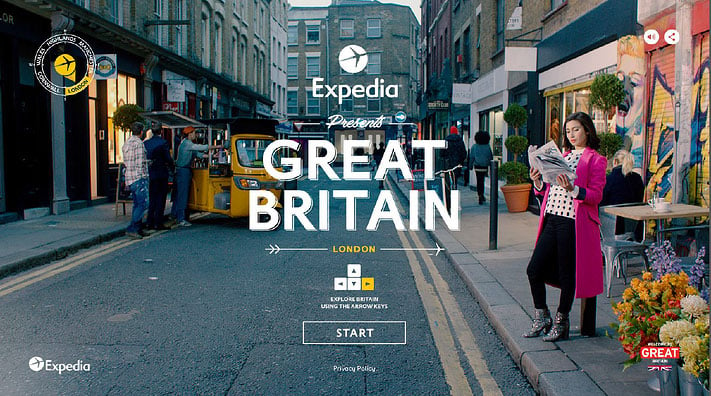 After engaging with the content, users are presented with a customized itinerary specific to the location that they spent the most time interacting with in the player, which includes suggestions on what to do and where to stay. Each personalized itinerary features location-specific content and drives users to the 365 Days of #OMGB platform where they can book their ideal trip to the U.K.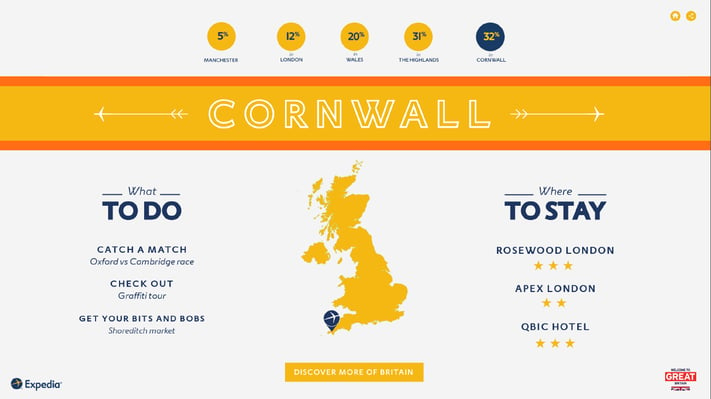 To discover your perfect vacation, you can toggle your way through the U.K. here.